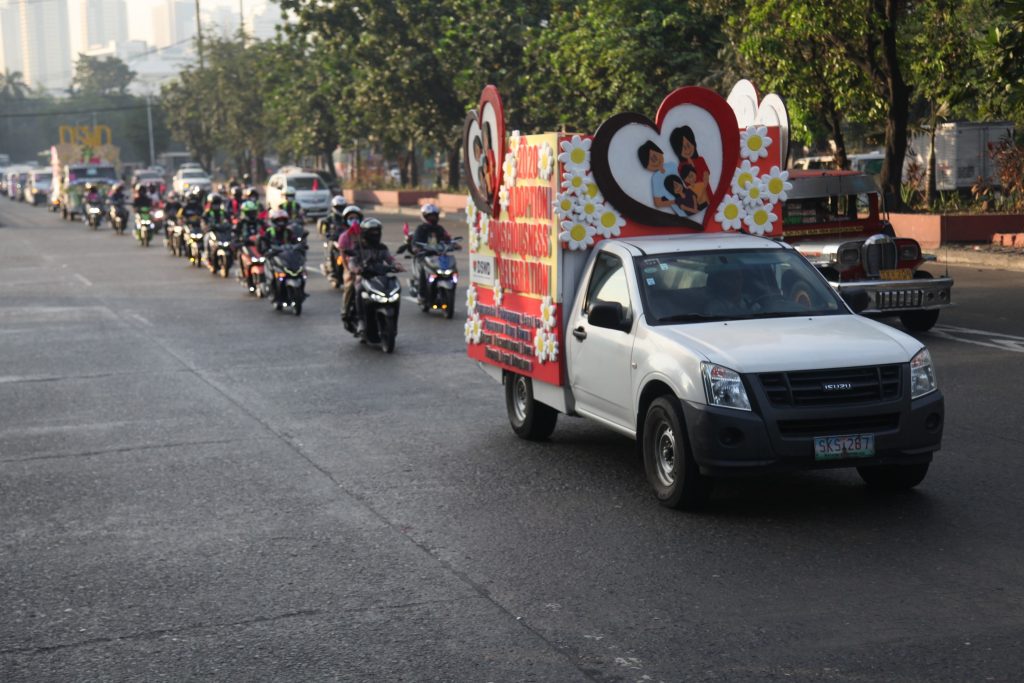 The Department of Social Welfare and Development (DSWD) successfully launched the 2020 Adoption Consciousness Celebration (ACC) with a strong warning to the public against all forms of illegal adoption during its kick off activity on February 1 at the Quezon City (QC) Memorial Circle.
With the theme, "Pagmamahal Palaganapin, Legal na Pag-aampon Ating Gawin! (Spread Unconditional Love Through Legal Adoption)," the activity aims to disseminate legal adoption as the only way that will ensure that adopted children will have the same rights as that of biological children.
"No illegal adoption must ever take place through social media or any other means," DSWD Assistant Secretary Glenda Relova said during her keynote address at the event.
Assistant Secretary Relova also called for strengthened collaboration to prevent the proliferation of social media pages facilitating the illegal adoption of children.
"Adoption issues brought by social platforms require us and specifically our law enforcement and legislative partners to be vigilant and keep our skills, knowledge, attitude abreast with the current technology to protect and push for legitimate and legal adoption," she added.
The ACC kickoff event featured a motorcade from Quirino Grandstand to QC Memorial Circle and a gathering of legal adoption advocates and supporters to celebrate the unconditional love between parents and their adopted children.
It was also attended by Commission on Human Rights (CHR) Commissioner Gwendolyn Pimentel-Gana, DSWD Program Management Bureau (PMB) Director Wilma Naviamos, QC Social Services Development Department (SSDD) Assistant Head Maribel Cayco, Idol Philippines 1st runner up Lucas Garcia, members of the Association of Child Caring Agencies of the Philippines (ACCAP), adoptive families, adoption advocates and supporters, and members of the media.
Media Forum
The gathering was immediately followed by a media forum which discussed issues on legal adoption, including simulation of birth records and prevention of child trafficking through illegal adoption facilitated by some social media pages.
Simulation of birth record or birth simulation refers to the tampering of the civil registry to make it appear in the record of birth that a child was born to a person who is not the biological parent, causing the loss of the child's true identity and status of such child.
Under Republic Act No. 8552 or the "Domestic Adoption Act," simulation of birth and tampering with the civil registry of a child is a criminal offense that may lead to six years and one day to 12 years imprisonment, and/or a fine not exceeding P50,000.
Among the panelists who shared their knowledge on the implementation of legal adoption were: PMB Director Naviamos, Inter-Country Adoption Board (ICAB) Executive Director Atty. Bernadette Abejo, Department of Justice (DOJ) State Counsel Atty. Jose Janello Covarrubias, Family Court Judge Hon. Roslyn Rabara-Tria, Family Court Judge Hon. Lorna Catris Chua-Cheng, Norfil Foundation Inc. Executive Director Teresa Nuqui, Virlanie Foundation Deputy Executive Director Arlyne Fernandez, Association of Local Civil Registrars President Lucena Flores, Kaisahang Buhay Foundation (KBF) representative Myrna Pineda, QC-SSDD representative Maria Volante, and adoptive mothers LJ Alapag and Claudine Barretto.
The Department reiterates that its adoption services are free. However, there are costs or fees for legal services and for the processing of necessary documents of prospective applicants. Those who want to inquire about legal adoption are encouraged to contact any DSWD-Field Office located around the country.
From 2010 to 2019, DSWD facilitated the placement of 2,537 children for domestic adoption.
The Department calls on the public to promote legal adoption as an act of unconditional love that ensures the welfare and best interest of neglected, abandoned, and orphaned children. -30-