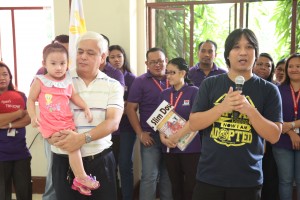 Looking at two-year-old Daniella, it would be hard to tell that she is a foster child of couple Joel and Noelle Marcaida of Lagro, Quezon City.
Daniella is being nurtured and loved by the couple as if she was their own flesh and blood. After three years as a couple, Joel and Noelle are still childless.
Even the parents of Joel and Noelle are proud and fond of Daniella as if they were the real grandparents of the child.
"Daniella's joyful aura is a complete opposite from the 4-month-old cry baby when we took her from CRIBS Foundation," shared Joel in his testimony during the flag ceremony of officials and employees of the Department of Social Welfare and Development (DSWD), Central Office in Batasan, Quezon City.
It was in 2012 when the couple came to know about foster care from Operation Compassion, a non-government organization which is a partner of DSWD in developing prospective foster parents for orphaned, abandoned, neglected, and dependent children sheltered in residential care facilities and needing one on one care.
The couple immediately became interested so they applied for a Foster Care License.
Initially, the couple opted to apply for foster care instead of adoption because they are still hoping to have their own child in the long run.
He admitted that at first, people close to them questioned their decision to foster a child including Noelle's mother, Evelyn.
"Ayoko noong una. Sabi ko kay Noelle, gusto ko na ang totoo kong apo ang siyang tatawag sa akin ng 'Lola'. Nag-iisang anak ko lang si Noelle at gusto ko magka-anak talaga sila (At first, I really objected to their plan. I told Noelle that I only want to be called 'Grandmother' by my real grandchild. Noelle is our one and only child and I hope that the couple will have their own child)," said Evelyn.
"It was hard convincing our parents about our plan. So we really prayed," Joel shared.
Despite all the objections from their parents, the couple pursued their plan to foster a child.
"We tuned into God's plan rather than listening to all the doubts and objections from people close to us," said Joel.
On November 7, 2012, they were issued a Foster Care License.
Subsequently, they were matched to a 4 month-old baby girl named Daniella Marie from Create Responsive Infants by Sharing (CRIBS) Foundation. They were given two years to care for the child.
CRIBS Foundation is a non-government institution accredited by DSWD that provides temporary shelter to abandoned babies up to 4yrs old. These are short-term placements with foster parents until the children are permanently adopted.
Two weeks after the matching, Daniella was placed into their custody.
"Noong dumating na nga si Daniella sa buhay namin, kahit tutol ako, unti-unting napalapit at napamahal sa amin ang bata hanggang ako mismo ay nagulat sa sarili ko kasi ako na mismo ang nagturo sa bata na tawagin niya akong 'Lola' (When Daniella came into our lives, even though I objected, gradually I became close to her and I began to love her. I was surprised because I found myself teaching her to call me 'Grandma')," expressed Evelyn with a smile.
The family got more than they expected from fostering Daniella.
"People think that by fostering, you are helping the children. But it goes both ways. Having Daniella has made us better persons. Daniella unified our family together. I feel that I am closer to my in-laws as well as Noelle is closer now to my parents," expressed Joel.
Foster Care
Foster care is the provision of planned temporary substitute parental care to a child by a foster parent duly licensed by the DSWD.
In foster care cases, the child's biological or adoptive parents, or other legal guardians, temporarily give up legal custody of the child.
A child may be placed in foster care with the parents'consent.
In a clear case of abuse or neglect, a court can order a child into foster care without the parents' or guardians' consent.
Under the law, those who wish to become a foster parent must be of legal age, at least sixteen (16) years older than the child unless the foster parent is a relative; must have a genuine interest, capacity and commitment in parenting and is able to provide a familial atmosphere for the child; must have a healthy and harmonious relationship with each family member living with him or her; of good moral character; physically and mentally capable and emotionally mature; must have sufficient resources to be able to provide for the family's needs; willing to further hone or be trained on knowledge, attitudes and skills in caring for a child; and must not already have the maximum number of children under his foster care at the time of application or award.
To adopt
Joel said that members of the family have already developed a strong emotional attachment to Daniella and they have decided to adopt her.
As of now, the foundation is still processing papers and other documents for Daniella to be declared available for adoption.
DSWD is currently assisting the couple and CRIBS Foundation to hasten the process.
The law provides that a foster parent may adopt his or her foster child if they possess all the qualifications as provided for by Republic Act No. 8552, otherwise known as the Domestic Adoption Act of 1998. ###